Session Recap
A great last reading group session before Christmas! We tackled the second lecture transcript of Mark Fisher's final lectures captured in Matt Colquhoun's latest book and spanned a wide array of topics. To name but a few: our changing relationship to the genuine radicalism of the 60s, and why the power of that has been so greatly obscured; the public vs private binary, the notion of the commons versus the publicly owned, and Fisher's trouble with the term 'community'; the literal and figurative role of the family, and how and why ideals of normative family units continue to endure; the potential of technology to liberate us from the drudgery of work that can be automated, and how this might transform the emotional and domestic labour typically carried out by women; and finally, intergenerational guilt, the demonisation of desire, and the plight of the "boomerang" generation, doomed to live at home with their parents.
If you didn't manage to catch the session and any of this sounds interesting to you, join us on Discord, where the conversation continues.
Session footnotes are below, and the original reading list can be found at the end of this post.
Books
David Graeber, Bullshit Jobs: A Theory (New York: Simon Schuster, 2018) – yep, it's still on our reading list!
On the notion of the 'British public': 'Thatcherism as an extension of consensus', in eds. Golder and McLoughlin, The Politics of Legality in a Neoliberal Age, Routledge, 2018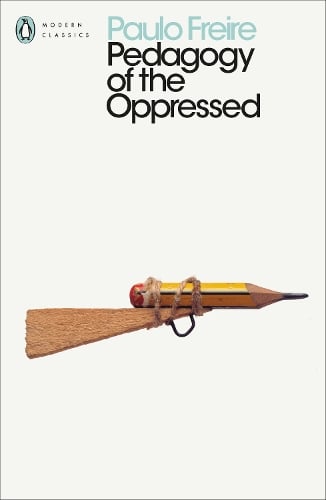 On pedagogy: Paulo Freire, 'Chapter Three', in Pedagogy of the Oppressed, Continuum, 2005
For more on pedagogy: bell hooks, 'Engaged Pedagogy' in Teaching to Transgress, Routledge, 1994
And some more, why not? Ivan Illich, Deschooling Society, Marion Boyars, 1995
Articles, Essays & Miscellaneous
Jo Freeman, 'Tyranny of Structurelessness', The Second Wave, 1972: https://www.jofreeman.com/joreen/tyranny.htm
Nick Peim, 'The Big Other: An Offer You Can't Refuse – or Accept, in Some Cases. Education as Onto-Theological Principle (Empire): An Anti-Manifesto', Other Education, Vol 1 No 1, 2012, open access: https://www.othereducation.org/index.php/OE/article/view/Peim_1_1_226238_2012
Dion Dublin of Homes Under the Hammer demonstrating that all houses have the same layout and aesthetics, because why not?
Session Recommended & Further Reading
Second chapter of Matt Colquhoun's Postcapitalist Desire: 'Lecture Two: "A Social and Psychic Revolution of Almost Inconceivable Magnitude": Countercultural Bohemia as Prefiguration'
Ellen Willis, "The Family: Love it or Leave it", in Beginning to See the Light: Sex, Hope, and Rock-and-Roll (Minneapolis: University of Minnesota Press, 2012), pp. 149-168 (a version of this chapter was also recently published here: https://www.villagevoice.com/2019/03/08/the-family-love-it-or-leave-it/)
Herbert Marcuse, "The Dialectic of Civilization" in Eros and Civilization (London: -Abacus, 1972), pp. 68-83