Session Recap
What a brilliant session! This week we delved into consciousness raising/razing in the third Postcapitalist Desire lecture transcript: 'From Class Consciousness to Group Consciousness'. This seems to have been the most popular of the three we've covered so far, probably because of how much Fisher squeezes into this lecture and the length he goes to unpack some of Lukács' ideas. The central topic we kept returning to was the act and the process of collective consciousness raising (which Fisher explores as a means for subordinated groups to rise out of the immediacy of experience and break away from ideology), and how it's obstructed by ideology itself (which seeks to persuade us the problem is us), as well as challenges such as time poverty and the seemingly magical disappearing act of class consciousness in recent decades. A particularly fruitful idea for discussion in the group was the notion of consciousness 'razing' as opposed to 'raising', a term used elsewhere by Fisher (it's well worth a read of Matt Colquhoun's Egress for more on this, particularly chapter 4), which speaks to the destruction of oppressive forms of thinking. This excerpt from Lukács really stuck with us:
Becoming conscious of your oppression entails submitting to an awareness of yourself as commodity and thus object (a paradoxical surrendering of consciousness). This surrender makes such consciousness raising possible and paves the way to raze oppressive modes of thinking: the way out is through.
If you didn't manage to catch the session and any of this sounds interesting to you, join us on Discord, where the conversation continues.
Session footnotes are below, and the original reading list can be found here.
Books
Samo Tomšič, The Capitalist Unconscious: Marx and Lacan, Verso, 2014
Sinéad Murphy, Zombie University, Repeater Books, 2017
Moishe Postone, 'Abstract Labour', in Time, Labor, Social Domination (Cambridge: CUP. 1993), pp.123-66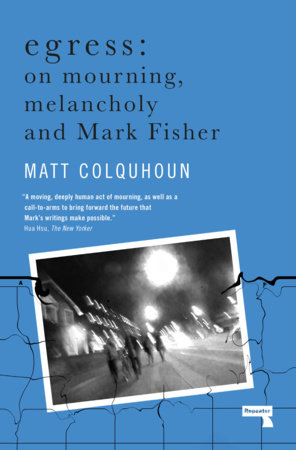 Matt Colquhoun, Egress, Repeater Books, 2020
Everything Else
Gilles Deleuze, 'Postscript on the Societies of Control', October, vol. 59, 1992, pp. 3–7
"The Owl in Daylight': On Philip K. Dick's Unwritten Masterpiece', Weird Studies Podcast, Jan 20th 2021
Steve McQueen (dir.), Small Axe, BBC iPlayer, 2020
Nine Inch Nails, 'The Way Out Is Through', The Fragile, 1999
Next Time
We explore the fourth of Fisher's final lectures, 'Union Power and Soul Power'. Join us Tuesday 23rd February, 1-3pm. If you're new to the series but still want to join, get in touch to register.